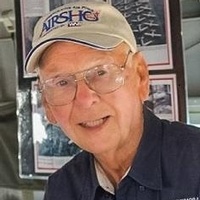 E. Raymond "Jeff" Jeffcoat WA5RWO
December 7, 1924 – July 13, 2018
E. RAYMOND "JEFF" JEFFCOAT, 93, of Irving, died Friday, July 13, 2018 at his home. Born December 7, 1924 in Blue Ridge, Texas, to Clarence Jeffcoat and Merzie Estelle Reeves Jeffcoat.  Jeff was a senior in high school at Wolfe City High School (Texas) when the Pearl Harbor bombing took place on his birthday. He joined the US Army Air Force and served as a radio instructor during WWII.
Following the war, he started work as a salesman for various companies in Dallas, notably Taylor Publishing known for printing yearbooks and the "Quarter Horse Journal". He worked for several other Dallas companies including many years with Storm Printing, with progressively increasing responsibilities in management from salesman to production manager to vice president. He also owned his own printing company in the early '70s. Later, he was president of Mercantile Printing whose customers included University of Dallas, Boy Scouts of America, and the Texas State Fair's cookbooks. When the owners decided to retire, he started a company brokering printing jobs, with many of the same customers following him from Mercantile Printing. This allowed him to make his own schedule and gradually transition into retirement.
Jeff developed a passion for CB radios and quickly moved to HAM radio. He held his license for many years, was a member of the Irving Radio Club, and participated in emergency preparedness, planning and drills. He enjoyed speaking with other HAM radio operators, locally, nationally, and in other countries such as Argentina. His call sign was WA5-RWO.
This dovetailed into his involvement with the Commemorative Air Force (CAF) whose initiatives were to restore and maintain WWII airplanes, education, and perform WWII reenactment air shows.   Col. Jeffcoat joined the Commemorative Air Force in the mid 1970s and was a founding member of the Communications detachment until its dissolution in the late 1990s.    He served as the PR Officer for his Wing and photographs of its history have been published in various CAF publications including the book from the 2017 Wings Over Dallas.
Jeff had many interests.   He enjoyed family vacations, driving to Yellowstone, the Grand Canyon, and the Rocky Mountains. His hobbies included fishing and photography.  He even built his own boat!  He also taught himself to use Photoshop to make his photos the best they could be.
Jeff was preceded in death by his son, John Raymond Jeffcoat in 2013 and by his first wife Ruth in 2014.  He is survived by his wife Dee Tiner of Irving; daughter Marvel Jeffcoat and fiance` Dan Kessler of Fort Worth; step-daughter Tammy Brown and husband Richey of Fort Worth; step-son, Rick Ramsey and wife Kathy of Frisco; sister Jean Bartlett of Fort Worth; nephews, Gary Bartlett of Rowlett and Bruce Bartlett of Emory, and nieces, Valerie Bartlett of Fort Worth and Joan Bartlett Smith of Fort Worth.