Preparations are well under-way for next Saturday's Irving Hamfest at Betcha Bingo, 2420 W Irving Blvd, Irving, TX (Doors open at 8:00 AM), I hope you're planning on joining us! I've got several announcements to share with you, as well as remind you we still have a few tables available to rent, but they are going fast! If you haven't already reserved your tables, head to http://irvingarc.org/hamfest-2019/ and do so now, before they're all gone.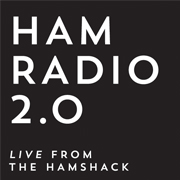 HamRadio2.0 is will be in the house!
We're very excited to announce that Jason, KC5HWB, from HamRadio2.0 will be at our Hamfest, and he'll be live streaming his show HamRadio2.0 from the Hamfest floor at 10:00 AM. If you haven't seen any of his videos, head over to his website https://livefromthehamshack.tv/ and check out his videos.
Trying to get a handle on Digital mode hotspots?

Jason from DXMINI will be on the show floor, demonstrating his very
popular DXMINI and DXMINI XL digital mode hotspots, and answering
your hotspot questions. If you've already got a hotspot for your
home, what about one for the car? They were recently featured on
QRZnow.com and will be available for purchase at the Hamfest! We'd
like to thank Jason for generously donating one of his hotspots as a
door prize – thanks Jason! His website is

http://dxmini.com/
Concerned about tornados?
And if you aren't concerned, why not? Texas leads the nation in the number of annual tornados, and when it comes to tornadoes early detection can save lives. David from TornadoAlert will be on-hand to demonstrate his personal tornado detector, and he's generously donated one of his TornadoAlerts as a door prize. For more information, see their website: http://tornadoalert.com/
Our other door prizes include a Yaesu FT-70DR Fusion dual-band HT, an Alinco DJMD5TGP DMR dual-band HT, an Icom ID-31a Plus UHF HT and our grand prize again this year is the Icom IC-7300 SDR-based HF/6M Transceiver!